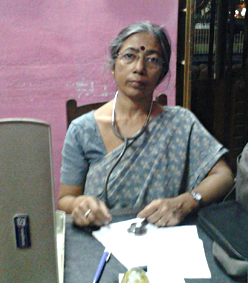 Quick Contact
Doctor's visit home on call
Mob. No. +91 9831311221
Email:

[email protected]
Dr. Ratna Pal
Dr. Ratna Pal, DMS is a trained Homeopath Doctor. After completion of B.SC. Her interest over Homeopathy took him to get the training on advance Homeopathy techniques from well reputed institute like Pratap Chandra Memorial Homoeopathic Medical College under WBCH. Her expertise over homeopathy gives him chance to get attached with the patients suffering from different crucial disease.
From last 21 years she is in a continuous process of restless serving of the patients through the private practice as well as through her clinics "Renuka Homoeo Pharmacy", "M.Bhattacharyya & Co" and "Bio Pharma".
Now a day she is working as a homeopathic consultant at "Renuka Homoeo Pharmacy", "M.Bhattacharyya & Co" and "Bio Pharma".
She's attached to Red Cross and other Charitable Organisation.
She took active p artalk and T.V interview conduct blood donation camp and health camp Clinic
Her main domain of proficiency is:
Homeopathic Doctors
Doctors For Allergy
Homeopathic Clinics
Hair Fall Treatment
Skin Treatment Homeopathic Doctors
Homeopathic Gynaecology Doctors
Homeopathic Neurology Doctors
Hair Loss Treatment Homeopathic Doctors
Homeopathic Paediatricians
Homeopathic Doctors For Hair Loss
Homeopathic Doctors For Eczema
Homeopathic Thyroid Doctors
Homeopathic Consultants
Gastroenteritis Homeopathic Doctors
Homeopathic Doctors For Fistula
Homeopathic Doctors For Pyria
Homeopathic Doctors For Ulcer
Homeopathic Doctors For Piles
Homeopathic Doctors For Spondylitis
Homeopathic Doctors For Migraine
Homeopathic Doctors For Corn Removal
Homeopathic Rheumatologist Doctors
Homeopathic Doctors For Fissure
Homeopathic Doctors For Leucoderma
Allergy Homeopathic Doctors
Homeopathic Doctors For Asthma
Pimples Treatment Homeopathic Doctors
Homeopathic Doctors For Acne Treatment
Homeopathic Doctors For Bone Disorder
Homeopathic Doctors For Digestive Problem
Homeopathic Doctors For Psoriasis
Homeopathic Doctors For Hyperacidity
Homeopathic Doctors For Paralysis
Homeopathic Doctors For Headache
Dr.Ratna Pal do philanthropic work & very sincere toward aged people.She has amazing experience on pain management. Aged people can avail her service with reasonable fee.
Samuel Hahnemann ( Physician )

Born: 10 April 1755(Meissen, Electorate of Saxony)
Died: 2 July 1843 (aged 88)(Paris, France)
Nationality: German.
Fields: Homeopathy.
Christian Friedrich Samuel Hahnemann was born in Meissen, Saxony, near Dresden. His father,was a painter and designer of porcelain, for which the town of Meissen is famous. As a young man, Hahnemann became proficient in a number of languages, including English, French, Italian, Greek and Latin. He eventually made a living as a translator and teacher of languages, gaining further proficiency in "Arabic, Syriac, Chaldaic and Hebrew". Hahnemann studied medicine for two years at Leipzig. Citing Leipzig's lack of clinical facilities, he moved to Vienna, where he studied for ten months. After one term of further study, he graduated MD at the University of Erlangen on 10 August 1779, qualifying with honors. His poverty may have forced him to choose Erlangen, as the school's fees were lower. Hahnemann's thesis was titled Conspectus adfectuum spasmodicorum aetiologicus et therapeuticus... and more»

James Tyler Kent ( MD )

James Tyler Kent, MD (1849–1916) was an American physician best remembered as a forefather of the modern homeopathy movement. In 1897 Kent published a massive guidebook on human ailments and their associated homeopathic remedies which has been translated into a number of languages and remains in use by adherents of homeopathy today. James Tyler Kent was born on March 31, 1849 in Woodhull, New York, the son of Steven Kent and his wife Caroline Tyler. Kent was raised as a staunch Baptist. Kent attended secondary school at the Franklin Academy of Prattsburgh, New York before enrolling at Madison University (today's Colgate University), from which he was graduated with a Bachelor's degree in 1868. He earned a Masters degree from the same institution in 1870. Kent attended the Institute of Eclectic Medicine at Cincinnati, Ohio, where, in addition to standard medicine, he studied naturopathy, homeopathy, and chiropracty. Kent graduated from the Institute in 1873...and more»
Homeopathy
Homeopathy is a system of medicine which involves treating the individual with highly diluted substances, given mainly in tablet form, with the aim of triggering the body's natural system of healing. Based on their specific symptoms, a homeopath will match the most appropriate medicine to each patient.